THE ROYAL AIR FORCE SERVICING COMMANDO
and
TACTICAL SUPPLY WING ASSOCIATION
Representing a Common Heritage
---
Royal Air Force Servicing Commandos 1942 to 1946
The National Arboretum Memorial - Alrewas
RAF Servicing Commando Site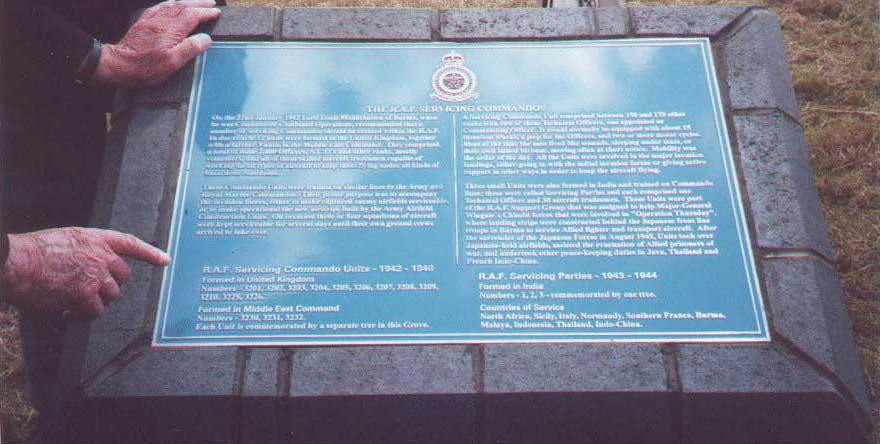 The following inscription is to be seen on the plinth:
THE RAF SERVICING COMMANDOS
On the 22nd January 1942 Lord Louis Mountbatten of Burma, when he was Commodore Combined operations, recommended that a number of Servicing Commandos be created within the R.A.F. In due course 12 units were formed in the United Kingdom, together with a further 3 units in the Middle East Command. They comprised a total of some 2400 Officers, N.C.Os and other ranks, mostly volunteers, and all of them skilled tradesmen capable of working on all types of aircraft to keep them flying under all kinds of conditions.

These Commando Units were trained on similar lines to the Army and Royal Marine Commandos. Their prime purpose was to accompany the invasion forces, either to make enemy airfields serviceable, or to make operational the new airstrips built by the Army Airfield Construction Units. On occasion three or four squadrons of aircraft were kept serviceable for several days until their own ground crews arrive to take over.

A Servicing Commando Unit comprised between 150 and 170 other ranks with two or three Technical Officers, one appointed as Commanding Officer. It would normally be equipped with about 15 three ton trucks, a jeep for the officers and two or more motorcycles. Most of the time the men lived like nomads, sleeping in tents or their own bivouacs, moving often at short notice. Mobility was the order of the day. Units were involved in the major invasion landings, either going in with the initial invasion forces or giving active support in other ways to keep the aircraft flying.

Three small units were also formed in India and trained on Commando lines: these were called Servicing Parties and each comprised one Technical Officer and 30 aircraft tradesmen. These units units were part of the R.A.F. Support Group that was assigned to help Major-General Wingate's Chindit forces involved in Operation Thursday where landing strips were constructed behind Japanese front line troops in Burma to service Allied and U.S.A.A.F. fighter and transport aircraft. After the surrender of the Japanese Forces in August 1945 Units took over Japanese held airfields, assisted in the evacuation of Allied prisoners of war and undertook other peace keeping duties in Java, Thailand and French Indo-China.
RAF Servicing Commando Units formed in the United Kingdom:
Numbers 3201, 3202, 3203, 3204, 3205, 3206, 3207, 3208, 3209, 3210, 3225, 3226
RAF Servicing Commando Units formed in Middle East Command:
Numbers 3230, 3231, 3232
RAF Servicing Parties formed in India:
Numbers 1, 2, 3
Countries of Service:
North Africa, Sicily, Italy, Normandy, Southern France, Burma, Malaya, Indonesia, Thailand, Indo-China
THE UNITS
| | | | | |
| --- | --- | --- | --- | --- |
| UNIT | COMMAND | FORMED | TRAINING | OPERATIONS |
| 3201* 3202 3203 | Fighter | March 1942 | UK | North Africa, Sicily, Italy *Sth France |
| 3225 3226 | Army Cooperation | August 1942 | UK | Sicily, Italy |
| 3204 | Fighter | February 1943 | UK | North Africa |
| 3206 | Army Cooperation | April 1943 | UK | Europe |
| 3205 3207 3209 3210 | Fighter | April 1943 | UK | Normandy, India, Burma, Indo-China, Malaya, Thailand, Java |
| 3208 | Fighter | April 1943 | UK | Europe |
| 3230 3231 3232 | Middle East | April 1943 | Palestine | Sicily, Italy |
Joe Cole Pictures
The six pictures below were all painted by Joe Cole of 3206 SCU and are reproduced by kind permission of Joe's son - also named Joe Cole - who retains copyright. It is, perhaps, worth noting that the pictures were sketched and painted in the field on active service, not in a comfortable studio after the war! The pictures are available in print and card form. Also available is a fascinating book "Road to the Front" which tells of Joe Cole's experience of war and was published in 1994 to commemorate the 50th Anniversary of D-Day; the book contains over 40 of Joe Cole's sketches and paintings.

Home | News | Gallery | Membership | Committee | Articles of Association | Servicing Commandos
Links | Guest Book | Site Map

© 2007-2021 RAF Servicing Commando and Tactical Supply Wing Association
Please send comments, suggestions and contributions for the website to the Webmaster